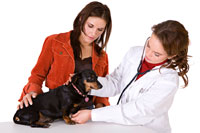 We always strive to service our own clients with their pet emergencies. If we are able to, we will fit your pet in as an emergency during our regular business hours. We want to be the hospital that provides your pet with its medical care. Afterall, we know your pet and have his or her medical history.
However, it may occur that you have a medical emergency with your pet and we are closed. In such an instance, if you call our hospital you will be transferred to the Huronia Veterinary Emergency Clinic. Or, if you prefer, you can call them directly (705-722-0377) or proceed to the Huronia Veterinary Emergency Clinic at 110 – 115 Bell Farm Road in Barrie. We have partnered with other area clinics to make this emergency clinic available to area clients when we are closed. They have a team of doctors and professional staff to attend to your pet's needs. They are able to do emergency surgery if necessary, laboratory testing, radiographs, etc. They also have access to laboratory tests that we may have ordered for your pet but have yet to receive results on (they can usually access such information online during the night prior to us receiving it when we open in the a.m.) They can also retrieve past laboratory results from the lab we use in Toronto. This is often helpful in treating your pet.
As care providers that have partnered with us, they are great at forwarding us your pet's emergency medical history prior to your pet being transferred to us when we re-open in the morning. This allows the continuation of care to be almost seamless. In extreme medical situations, we often will transfer your pet back to them overnight for constant monitoring and treatment.
We hope that the need never arises that you need emergency medical care for your pet, but it is always nice to know what to do should the unexpected happen.